Rss
I have been thinking about what I want to do as far as with my blog. We are still homeschooling but I'm just not sure if I want to continue blogging. I am going to take what I'm calling a break for now. I may be back, I may not be back. I have started a new adventure with selling Thirty-One and my business has really taken off and I want to put my focus there.
At this time you can find me over on my Instagram which you can find in the side bar of the blog. I will continue to share our homeschool stuff over there. If you'd like to see what curriculum we use or what we are doing that's the place to go for now!
Thank you all for the great following for all of these years.
All of my posts and downloads and products on TPT will still stay active. I am not removing anything.
I may take longer to reply if you comment or email me so keep that in mind if you need help.
Rss
When we choose to homeschool we often find that a subject isn't our favorite to teach or it's not our child's favorite subject. That doesn't have to be our downfall.
Math is one of those subjects in our family. I'm going to focus today on what I've done to make sure Math isn't our downfall.
Speak Positively
I always try to speak positively about Math in front of my children. No child wants to hear how much their parent hates math or how annoying math can be. If we speak positive about it our children will be more positive about it! When my kids speak negative about math like "I hate math." I try to reword it, "You may not like it today, but later down the line math it's going to be so helpful." Showing positivity can be hard at times but its worth it in the long run.
Make Math Fun
Most kids that don't like math are really just bored with it. Make it fun. Add in math manipulatives, go on math centered field trips, or play math games. Making math as hands on as possible has really helped my children not just with the boredom but also the learning aspect.
Cooking
We all know that cooking is math. Make it fun. Let your kids dive in and little do they know they are learning how to add fractions when measuring out a recipe.
Talk It Out
Talk with your kids. Give them your expectations of math. Let them tell you their frustrations. Talk about what you both can do to make math work for your family. Keeping an open conversation about math can really give them relief and they will open up about their troubles or even what they enjoy!
Teaching Textbooks
I have mentioned Teaching Textbooks before and it has really been what makes a difference in Math with my kids. It's a computer based program with a lecture and problems that the kids can easily learn and do. It has fun buddies that they can choose and a wallpaper that they can pick to personalize their experience. My kids absolutely love that it feels like a computer game to them. They're learning and having fun at the same time.
It can all be done online with their new 3.0 subscription.
They have a free trial!
Instant feedback with every problem the child does.
You can choose if the child gets to try again if they miss a problem.
Level 3 to Pre-Calculus is offered.
My kids confidence to Math changed completely when we started using Teaching Textbooks.
A lot less stress when it comes to Math time for both parents and kids!
Math is no longer a struggle with my children. Most days they complete their lesson and want to do another. It makes me feel good as a parent to know that I am giving them a Math program that really works and makes it fun!
Rss
by Dennie Booth, SCOPE Chairman
Summertime gives opportunities to reflect, to catch up, to breathe. As you reflect this summer, think over the challenges from the past school year and see how God worked them out. Thank God for His many blessings. Thank Him for carrying you through the difficult times. Thank Him for using the challenges to drive you into His waiting arms.
God works through each challenge to bring about His purposes in your homeschool. Keep this in mind as you look back over the school year. Don't let the challenges of the past dampen your excitement about the coming year, let them drive you to seek God and to understand His ways.
Each school year will bring blessings and challenges. Viewed rightly, even the challenges are actually blessings. Remember when Joseph told the brothers who sold Him into slavery, "But as for you, ye thought evil against me; but God meant it unto good, to bring to pass, as it is this day, to save much people alive." (See Genesis 50:20.)
The challenges you faced last school year, and the ones coming your way this year, might be the thing God uses to save your children. Those challenges might drive you into His Word for comfort and onto your knees in prayer. This is exactly where you need to be. The challenges will be different this coming school year, no two school years look identical. Whatever shape the challenges take, don't forget that God will be at work in and through them for your good and His glory.
Rss
by Rebecca Kocsis
He has shown you, O man, what is good: And what does the Lord require of you
But to do justly, to love mercy, and to walk humbly with your God?
Micah 6:8 (NKJV)
Did you ever wonder why the prophet Micah uttered those words? When I first came to know the Lord, we sang them as a worship chorus. It was lovely and inspiring. However, I had no idea why the Holy Spirit inspired Micah to utter them. Looking at the scripture in context and delving into the history of Israel gives us a clear picture of what God was saying to His people.
The name Micah means "Who is like Jehovah?" His name advertises that he was a servant of the one True God. He was a contemporary of Isaiah, but came from a humbler social class. In fact, it was written of him, "The poor peasants of Judah had a strong champion in this powerful young preacher from the country."
By the time of Micah's ministry, the eighth century BC, the fairly even distribution of wealth that the Lord had established when the children of Israel entered Canaan had been replaced by a greedy, materialistic, and harsh society that separated the Israelites into two classes – the rich and the poor – the "haves and the have nots." The rich landowners got richer at the poor farmers' expense – eventually causing them to migrate to the cities. For the poor, these cities were characterized by poverty and vice. Contrast that with the luxurious lifestyles of the upper class and their cruelty to and exploitation of the poor. Does this not sound like something straight out of a Dickens novel? Add to that, trade with pagans and the idolatry and immorality that comes with it and you have a pretty dark picture.
Micah 6:6-7 gives us additional perspective. "With what shall I come before the Lord, and bow myself before the High God? Shall I come before Him with burnt offerings, with calves a year old? Will the Lord be pleased with thousands of rams, ten thousand rivers of oil? Shall I give my firstborn for my transgression, the fruit of my body for the sin of my soul?"
Although Judah had become altogether corrupt, the people were religiously practicing sacrifice(s) to the Lord in the delusion that this would satisfy His demands. God corrected His people. He did not want burnt offerings. He wanted His people to exercise justice. He required His people to exhibit mercy rather than bring an abundance of calves and oil to His altar. His desire was that His people practiced humble obedience rather than the despicable practice of human sacrifice – slaughtering their children on pagan altars in an attempt to atone for their sins.
The people of Judah, in performing the ritual sacrifices, were merely keeping up appearances – going through the motions. Unfortunately, they were ignoring what was most important to God. It reminds me of what Jesus said about the scribes and Pharisees of His day. In Matthew 23, He strictly criticized them for their hypocrisy – their outward religiosity, but inward lawlessness. He said they were "like whitewashed tombs". Outside they appeared beautiful, but inside they were "full of dead men's bones and all uncleanness." These were extremely unpleasant words. Jesus reserved His most strict criticism for those who trusted in or boasted in their religion.
How does this apply to us as homeschoolers?
How many of us trust in homeschooling as a guarantee that we'll have godly kids? All you have to do is take the kids out of public school and give them some Christian school books and – voila! You'll get godly kids. God does not owe us a special blessing because we homeschool. True, homeschooling helps, but just like Moses learned during his wilderness wanderings with the children of Israel; it's a lot easier to take the kids out of Egypt – than to get Egypt out of the kids. It's a lot easier to take the kids out of the world than to get the world out of our kids. They have the same sin nature to struggle against as we do. How did we get out of "Egypt"? It was a work of God, wasn't it? And it's maintained by the transforming of our minds by continual washing of the Word. It's the same with our children. Homeschooling is not enough. We must pray for a work of God in their lives.
Rss
Now you can practice more types of mental math at the Math Mammoth online practice section. 😄

We've added various types of exercises for adding & subtracting two-digit numbers mentally, mostly matching what is taught in Math Mammoth curriculum, in grades 1-2.


For example, children can practice adding a two-digit number and a single-digit number WITH or WITHOUT regrouping... e.g. 45 + 3 is without regrouping, but 45 + 8 is with regrouping.


Or they can practice adding/subtracting multiples of ten (56 - 30 or 34 + 60).

See more examples in the image above!
Here's the link for the online practice page (and it's AD-FREE, plus not made with Flash):
Two-digit addition & subtraction practice – mental math
.
Rss
Here's a new Math Mammoth video review posted on Youtube. (It does cover some other elementary math programs also.)


Rss
We don't have to wait for college to start expanding our children's minds–we're homeschoolers! Great literature should not only be a large part of your child's high school years, it can even walk him through history. Which helps with teaching that stuff. Connecting stories to lessons is my favorite. Creating… Continue reading
The post American Literature for High School appeared first on Lit Mama.
Rss
Mama Mouse and her adorable babies are back in Leea Baltes' wonderful picture book, A Christmas Star. This is cuteness overload with a message, y'all. Little Jack Mouse makes a shiny foil star that is perfect for a Christmas tree, but the family has to visit Nana before they get… Continue reading
The post Story Time: A Christmas Star appeared first on Lit Mama.
Rss
Giveaway #1
Heirloom Audio
Heirloom Audio is giving away a package of 10 stories in CDs.
With these G.A. Henty stories dramatized for you, it will transport you back in time to important events in the past bringing history to life! Enjoy this complete set with your family at a HUGE discount!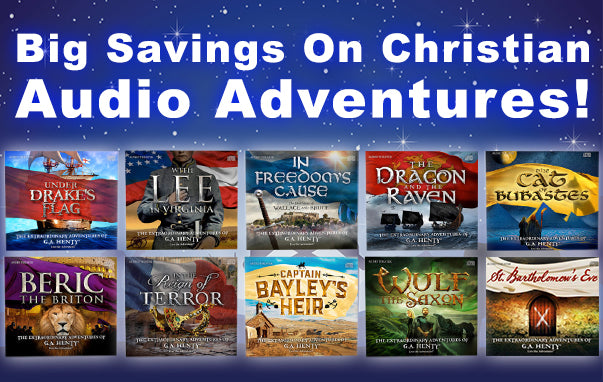 ENTER HERE:
Giveaway #2
UnitStudy.com Win the Unit Study Holiday Bundle. Holidays are exciting and interesting for most children, and the six holiday unit studies in this set will captivate them and teach them about these holidays, and so much more. The Holiday Unit Study Set includes six interactive unit studies that are ready to use immediately. We have put together our most popular holiday titles to create this set for you – saving you money and time. As soon as you purchase and download these six studies, your child can begin the learning adventure, no prep required! The set includes: Thanksgiving, Christmas, Valentine's Day, St. Patrick's Day, Easter, Birthday!
Enter Here:
Giveaway #3
A 2019 subscription to Homeschooling Today Magazine and the 2018 print editions of the magazine!
Enter Here:
Giveaway #4
Durenda Wilson's The Unhurried Hommeschooler
Enter Here:
Giveaway #5
Cheryl Bastian's  Celebrate High School
Enter Here:
Rss
If you are interested in using the Charlotte Mason philosophy with your young children, there are probably some guidelines that you often see in groups or blog posts. For example, you might have read over and over again that you should get your child outside 4-6 hours Every Single Day, no matter the weather. Or, maybe you've heard that Charlotte Mason was against kindergarten. These recommendations aren't entirely true: they're over-generalizations that might send your eager-to-learn brain into a tailspin.
Charlotte Mason's philosophy is not guided by rules, but principles. Because of this, generalizations often don't fit. We have to analyze things on a case-by-case basis, rather than making a sweeping generalization about how to apply her principles to the early years.
Some of the myths or generalizations that I want to share with you today are often repeated in Charlotte Mason groups. I personally believed some of them until I started digging into her volumes a little deeper. I hope that this post will encourage you to examine all advice you hear regarding Charlotte Mason's philosophy instead of just taking someone's word (and opinion!) for it!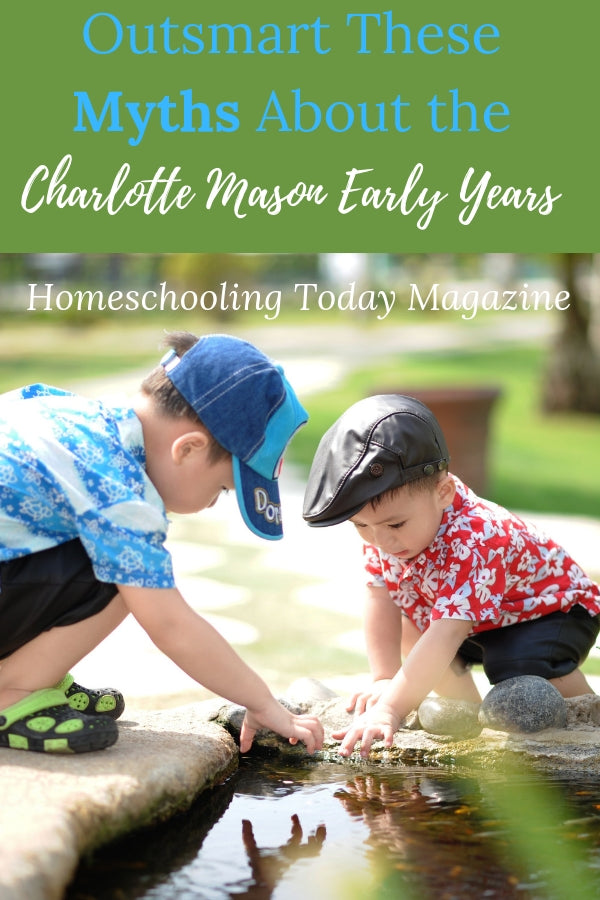 Myth 1: Children should be outside 4-6 hours EVERY DAY, no exceptions!
Outdoor time, which builds the foundation of the Charlotte Mason early years, should be delightful for our children and for us. Charlotte Mason recommended that in nice weather, children spend about 4-6 hours outside each day. For some, who are blessed with beautiful weather throughout the year, this sounds doable. But what about those of us who are forced to wallow in frigid temperatures for four months of the year? How do we spend 4-6 hours outside with children who are so young that they can't even verbalize that their fingers are cold?
You don't have to.
Charlotte Mason did not recommend taking very young children outside on sub-zero days.
In colder months, from October to April, she recommended 2-3 hours outside per day.
If the children are to have what is quite the best thing for them, they should be two or three hours every day in the open air all through winter, say an hour and a half in the morning and as long in the afternoon. (Home Education, page 85)
But, looking at the average weather of Ambleside, England, where Charlotte Mason lived, shows us that the average low temperature for January is 34 degrees fahrenheit. She did not brave single-digit temperatures with children, and for the most part, neither did her intended audience.
The Swedish saying, "There is no such thing as bad weather, only bad clothing" has value and may be true, but this is not a Charlotte Mason idea. If you aren't outside for hours and hours everyday, especially in the winter, give yourself some grace! Personally, I try to go by a different motto, one Charlotte Mason actually mentioned:
Never be indoors when you can rightly be out.
Myth 2: You shouldn't teach your child to read until they are six.
This is something that is based in Charlotte Mason's recommendations, but is over-generalized. It's true that Charlotte Mason didn't recommend beginning formal lessons until a child is six. But, this doesn't mean that we have to hide our eager learners from appetizing knowledge for the first six years of their lives! There are lots of by-the-way lessons that should occur: object lessons, foreign language lessons, and even early literacy lessons!
Let the child alone, and he will learn the alphabet for himself: but few mothers can resist the pleasure of teaching it: and there is no reason why they should, for this kind of learning is no more than play to the child, and if the alphabet be taught to the little student, his appreciation of both form and sound will be cultivated. When should he begin? Whenever his box of letters begins to interest him. The baby of two will often be able to name half a dozen letters; and there is nothing against it so long as the finding and naming of letters is a game to him. But he must not be urged, required to show off, teased to find letters when his heart is set on other play. (Home Education, pages 201-202)
Beyond learning letters at the age of two or when interested, Charlotte Mason recommended simple word building, which she did not consider to be reading. Children can experiment with new beginning sounds to make rhyming words, and will feel like they're playing a fun game.
Deterring a child's interest in learning was never Charlotte Mason's goal. Instead, the early years are intended to give children plenty of playful opportunities to build a base for their future education. Learning the alphabet and early literacy skills can, and should, be playful!
Myth 3: Charlotte Mason was against Kindergarten.
Froebel, the "father of the Kindergarten" was highly respected by Charlotte Mason. She appreciated his principles and thought they were beneficial for young children. But, as happens with many great ideas, the concept of kindergarten became distorted and strayed from its original intent. This is perhaps why people so often say that Charlotte mason was against Kindergarten.
In Home Education, Charlotte Mason lauded many of Froebel's principles of Kindergarten. But, instead of sending children to a school specifically for Kindergarten, she thought that the mother would make the best kindergarten teacher.
At home, we can build meaningful relationships with our children and teach them to observe, two of the vital concepts of kindergarten. Instead of having a very particular curriculum, Charlotte Mason knew that mothers could create the same amount of learning by-the-way, without specific lesson plans. Calling your early years homeschool "kindergarten" is not at all against Charlotte Mason's recommendations.
Before feeling weighed down or restricted by Charlotte Mason's recommendations that you hear, make sure that they are true, and decide for yourself what works best for your family. If your early years homeschool could use some organization and learning ideas, the Small Beginnings planner will help. You can learn about it here.
__________
Leah Martin taught in a Charlotte Mason school before leaving her job to stay home with her children. She started My Little Robins in 2016 as a way to keep teaching others and to connect with other like-minded moms. She and her husband have three children under the age of six, and together they enjoy exploring Colorado and reading lots of books.